LOGISTICS - STORAGE - DISTRIBUTION - SALE
M C D
A TRUSTED PARTNER IN BUSINESS
A PROVEN PARTNER IN LOGISTICS
od ponad 25 lat zapewniamy:
☛ Implemented, proven logistics and IT standards,
☛ Storage of your products in a perfect location,
☛ Comprehensive execution of your clients' orders,
☛ A simple and convenient way to settle your sales,
☛ Timely deliveries of your products throughout Poland and the European Union,
☛ Access to a system that allows for all analyzes related to the distribution of your products,
☛ Monitoring deliveries from the order until the product is placed on the recipient's shelf,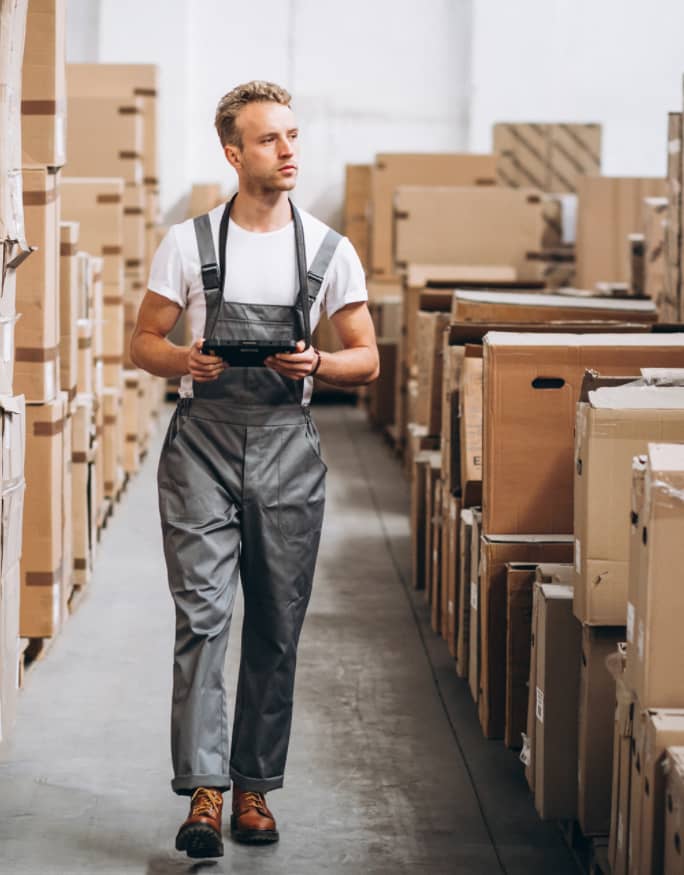 WE HELP IN THE DEVELOPMENT OF YOUR BUSINESS
distribution by MCD guarantees:
☛ Reduction of fixed costs.
☛ Expanding the sales market.
benefits of our services:
☛ Full sales monitoring.
☛ Reduction of inventory costs.
☛ Continuous sales settled with one sales invoice - after the end of the agreed settlement period, it shows actual sales (sales less returns).
OFFER
STORAGE
☛ Own warehouse space (goods for sale buffer), located in Warsaw, subject to monitoring and security of the facility. It is equipped with devices that improve the process of sending / receiving returns. The entrusted property is covered by insurance.
☛ Possibility of handling external warehouses.
☛ The IT system guarantees efficient warehouse management. It automatically generates data on stock levels, their location, order fulfillment and comprehensive returns handling.
SALE OF TRUSTED GOODS
☛ MCD - based on logistic agreements with recipients in Poland and the European Union - accepts and performs deliveries and returns on behalf of the product owner. Commercial and marketing care remains on the side of the product owner.
CONTINUOUS SALE
☛ MCD sells the entrusted products on its own behalf and on its own account in the form of continuous sales, with the settlement of these sales with the product owner in the accounting periods.
☛ Product ownership is not transferred to the MCD until the invoice is issued to the recipient from the MCD.
PACKAGING SHIPMENTS AND PRODUCTS
☛ We carry out all orders according to specific procedures, guaranteeing high quality and multi-stage verification of goods prepared for shipment.
☛ Packing of deliveries and / or products is also carried out with the use of sorting devices. The IT system allows you to reconstruct the history of each order or shipment.
HANDLING OF AFTER SALES RETURNS
☛ MCD provides supervision of returns from any point of sale.
☛ The MCD Returns Service Department, in contact with the recipients, determines the dates and manner of collecting the returns.
☛ The goods received are registered in the system and subjected to the quantitative and qualitative verification procedure.
☛ We settle the return within the statutory 7-day period from its receipt.
ACCOUNTING AND FINANCIAL SERVICES
☛ Issuing all sales documents.
☛ Supervision and control of payment terms.
☛ Collection of overdue payments.
☛ Confirming balances with contractors.
☛ Distribution of receivables among product owners.
☛ Settlement of sales according to the agreed settlement period.
REPORTING AND DATA ANALYSIS SYSTEM
☛ On request, MCD prepares all analyzes and reports related to the movement of their products.
☛ Reports may concern the quantity of products, current demand, sales in the analyzed period, the number of returns, sales structure or the status of receivables settlements.
☛ It is possible to provide the customer with online access to a wide range of functions of the MCD IT system with full safety rules.
MERCHANDISING
☛ We have a network of sales representatives throughout the country.
☛ On a daily basis, sales representatives ensure the effective display of products at their points of sale.
☛ They are distinguished by a good knowledge of the market and professional cooperation procedures with recipients.
☛ We have many years of experience in the distribution of games, DVDs, CDs, books and more.
>25 000
ACTIVE PRODUCTS IN DISTRIBUTION
>23
YEARS OF EXPERIENCE IN DISTRIBUTION
>15 000
SATISFIED RECIPIENTS
OUR ADVANTAGES
Passion and professionalism
BENEFITS OF
OUTSOURCING OF DISTRIBUTION SERVICES
☛ Reduction of warehouse costs,
☛ Continuous sales settled with one sales invoice,
☛ Reduction of shipping costs - the ability to combine products / packages in one delivery and notification and control of these deliveries,
☛ Transfer to MCD of the obligation to keep and archive documentation (WZ, FV, KFV),
☛ Very tight receivables control system that excludes payment gridlocks,
☛ Efficient and fast handling of returns and complaints,
☛ Backorder system,
☛ Possibility of expanding goods delivery points by reaching active MCD Recipients,
☛ Possibility to sell goods under a common collective code (basket sale)
☛ Guarantee of control of delivery dates based on compliance with the dates of premieres and new releases,
☛ MCD IT system that allows you to control, manage sales and returns as well as automate the creation of documents,
☛ The MCD IT system allows for integration with external systems to automate the distribution and procurement process,
☛ Guarantee of timely deliveries throughout the country and the entire European Union,
☛ Transparent rules of billing for services provided by MCD,
SAMPLE PRODUCTS ON DISTRIBUTION
---
YOU ARE LOOKING FOR HELP
IN BUSINESS EXPANSION?